Campaign Results Engaging the retail market.
We're Three Mobile's contracted partner for retail marketing, tasked with producing engaging activations which thrill and entertain up and down the country.
While we work across a variety of campaigns, which all embrace Three's penchant for silliness, our main aim is always to drive footfall to its stores.
Deliverables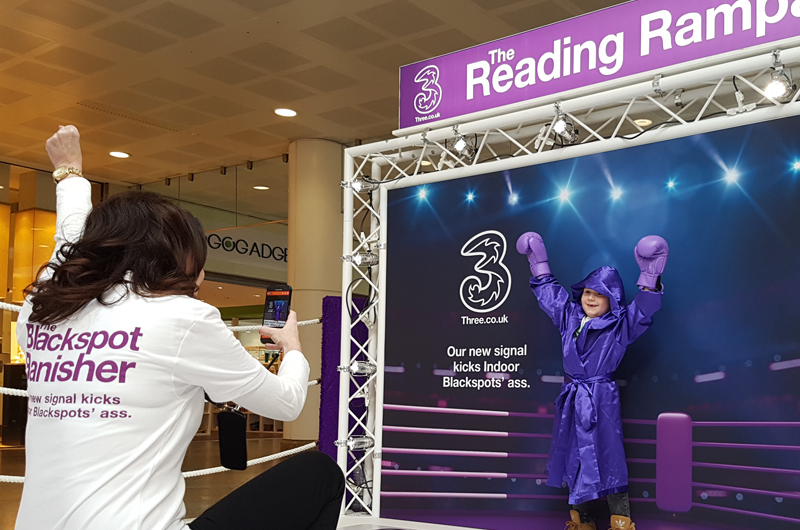 Introducing the Blackspot Banisher.
Three's 'Blackspot Banisher' campaign toured eight major UK cities for 16 days to build awareness around the benefits of Three's new 4G Super-Voice service, specifically that it drastically reduces the loss of signal inside buildings. The locations picked were regions particularly affected by weaker 4G signal. Three's new network solution would 'banish' that problem…
The public was given a chance to experience the highs of being a champion boxer with Three's mascot, the Blackspot Banisher himself, Jackson. People walking past the stand were invited to don boxing gloves and a regionally branded robe before having a moving GIF image recorded of their signature punches, taunts or shuffles – All to be shared on social.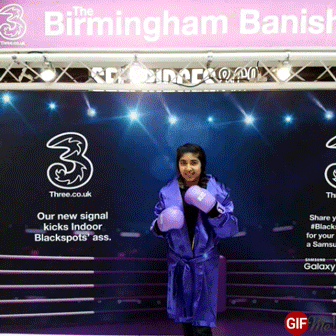 "B&D take away any element of worry from an event. With their professionalism you know they have everything covered."
Kim Davis

-

Lead Internal Communications Manager, Three
Ultrafast Cup-Stacking.
This playful in-store activity supported Three's Ultrafast Campaign, which highlighted the network's high data speed. Three wanted something simple, fun and theatrical, which showcased the brand's love of the internet.
We suggested a Speed Stacking tournament and created the Three Ultrafast Cup Stacking Challenge, in a nod to the online cup stacking phenomenon. It's simple: six plastic cups, stack them into two triangles, unstack them. Boom. Whoever did so in the fastest time would win a Samsung Galaxy smartphone. It was loud, fun, fast and most importantly successful.

Targeting a new generation.
Despite Three's silly personality it had never directly targeted students. Setting that straight, they asked us to produce an interactive area at Intu Shopping Centre's Student Lock In, which toured 12 locations across the country.
The event homed in on Fresher's Week: aimed at students who have either just started, or are about to start university. We designed the installation to feel like a student living room with a sofa and comfy chairs and a 4K TV playing Netflix. Visitors could try out Samsung Gear VR and take pictures and videos using the hard-to-get Snapchat Glasses. It was a student paradise, and a chance for a pit-stop amidst all the shopping. The activation was a huge success, resulting in a 148% increase of SIM sales and 65% increase in footfall.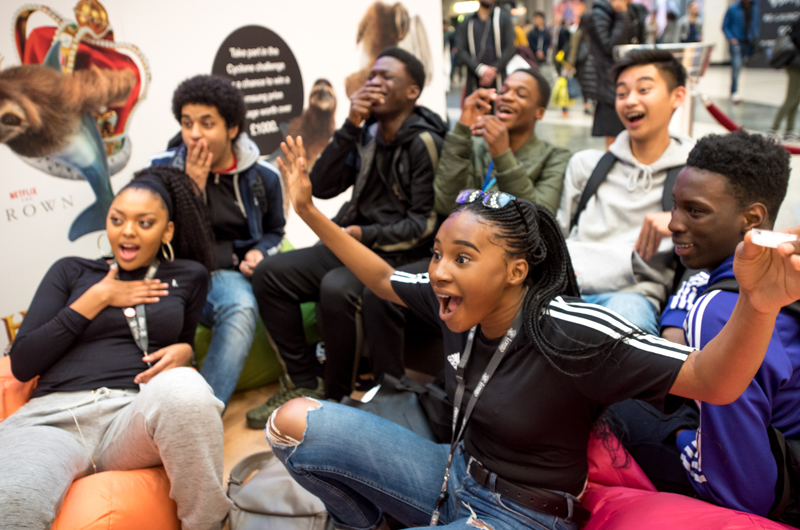 Driving data collection through games.
As students were a new target market for Three, data capture was vital. Our central attraction at the Student Lock Ins was the Cyclone chamber. This small room is full of lightweight balls kept afloat by small turbines. Students were given 30 seconds in the Cyclone to grab as many Three-branded balls as they can. We added a live leaderboard which kept the competition heated, with some snatching wins in the last minutes of the day. The person with the highest score at the end of the day would win the grand prize – an incredible Samsung package worth over £1,000. The competition simply required a name, email and number to enter and meant Three was able to get 1,854 contacts of the target audience it was specifically after.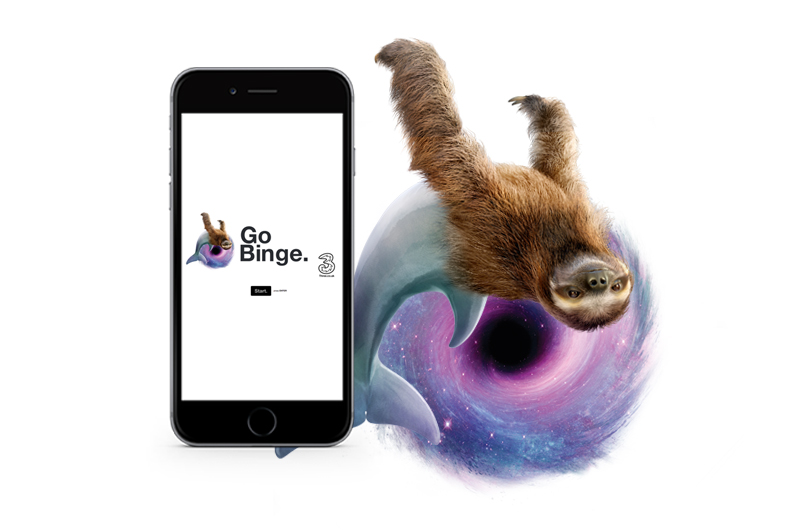 Wuntu Wednesdays.
We promoted the re-launch of the Wuntu app, which gives Three customers access to discounts and giveaways at restaurants, cinemas and coffee chains, across 10 stores across the UK in order to drive downloads.
Our 'Wuntu Whirlwind' Cyclone chamber was deployed for Three customers to compete in. Scores were recorded on a leaderboard, with the highest score per store winning a European city break for two. The Wuntu app was needed to play, and everyone taking part also received a free Costa coffee voucher.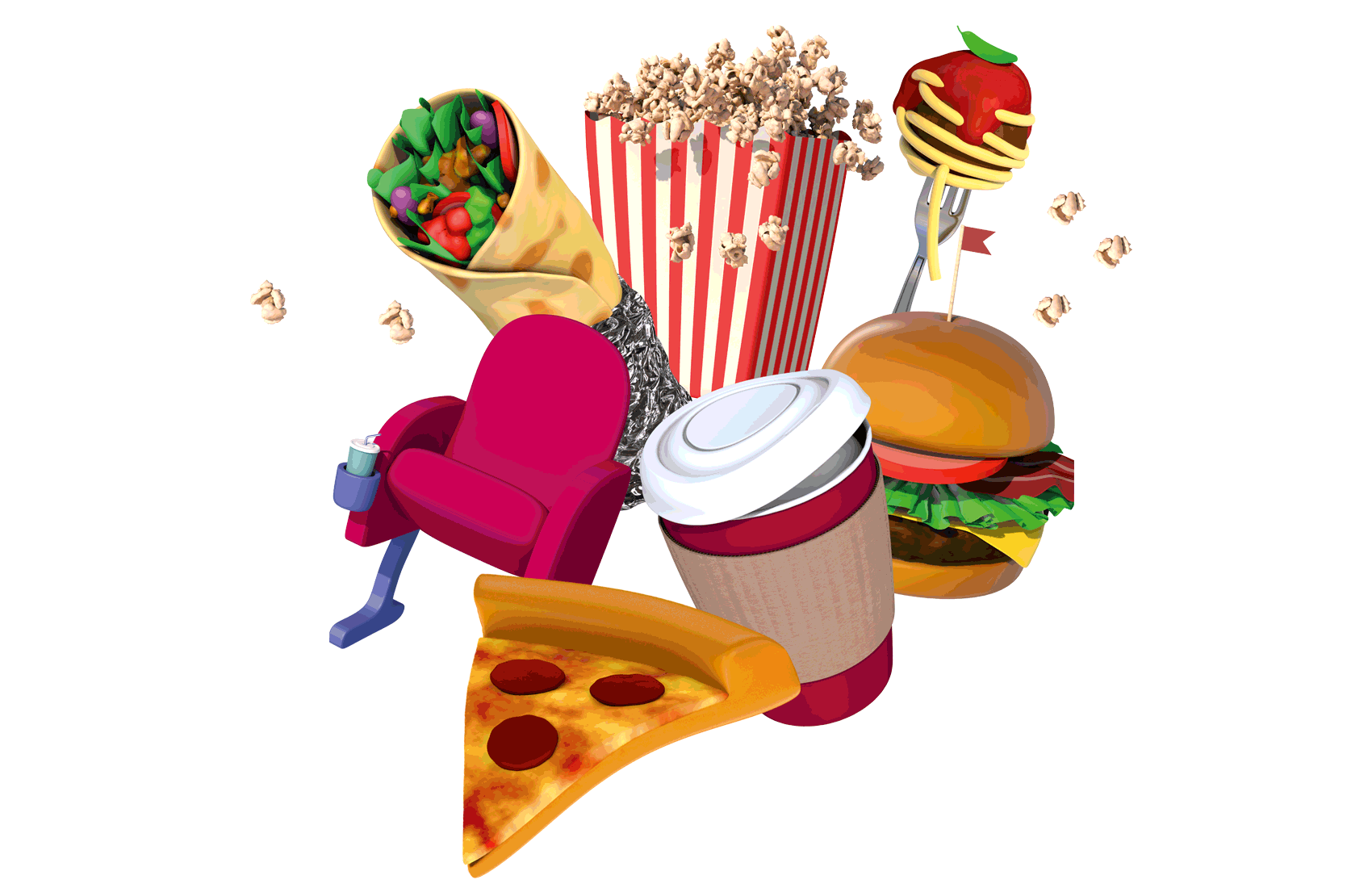 Cardboard football.
In celebration of the 20th FIFA World Cup we sent branded foosball tables to 100 Three stores across the country. But these foosball tables were a little different… they were made of cardboard.
Teams at Three stores were surprised by a large box containing the flat packed foosball tables, which, once assembled, left them with a fully functioning branded cardboard football table. The tables gave Three a fun way to support England in the World Cup. The foosball tables, unlike England, were a roaring success and much like England, completely recyclable.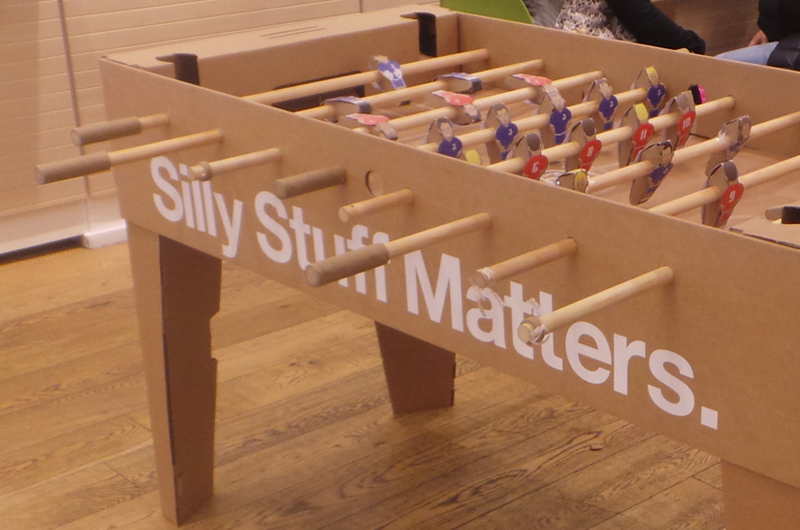 #PhonesAreGood with Three.
Three's latest #PhonesAreGood campaign is a surreal, cheeky and all-encompassing tribute what makes phones great. The telecoms network asked us to support the campaign with a nationwide in-store activation and make Three famous on the high-street.
We created the Three Phone Spa, designed to give everyone (not just Three customers) the chance to give their phones some much needed love and attention. We recreated the imagery of a classic luxurious spa, with artificial foliage, rose petals in bowls, LED candles and a graphic of a smartphone with its 'head' comfortingly wrapped in a towel.
Anyone visiting the stand would be given a free selfie-grip, screen protector, screen cleaner and a voucher for a free Costa Coffee. It added genuine value to people visiting stores while playing into the absurdist nature of the campaign.