"This was no small task but B&D take away any element of worry from an event of this size."
Kim Davis

-

Lead Internal Communications Manager, Three
Overview.
The Reinvention Conference focused on Three's history of innovation, and at the time was the biggest event the company had ever run for its staff. Three wanted to 'Reinvent' the telecoms industry, starting with themselves, and so merged two usually separate conferences – one for Sales and one for COO – into one big flagship event. We were responsible for the management of all production, creative solutions, content and activities.
Deliverables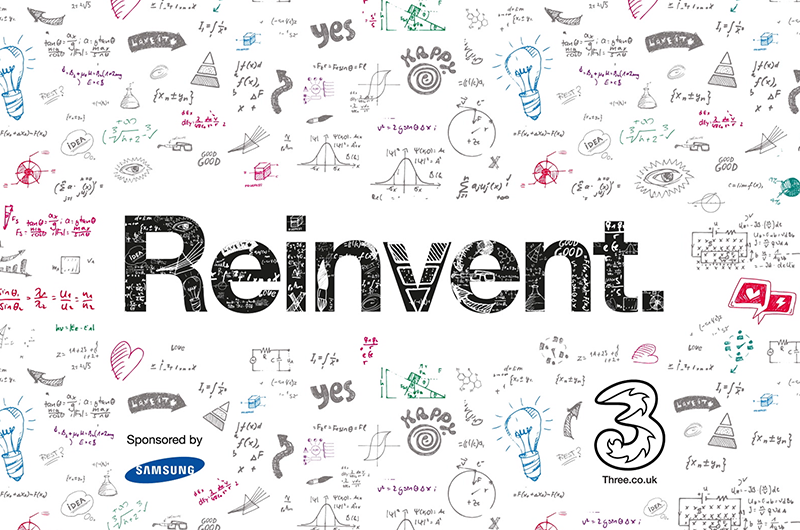 Reinventing the mobile industry.
We knew we needed to embrace 'Reinvention' at every step of the day, making the concept permeate into more than just the presentation content. We knew we had to create something truly spectacular. No dry Power Points, no shoddy stage arrangements, no lacklustre activities, no under-utilised space within the venue and nothing that delegates would have seen before.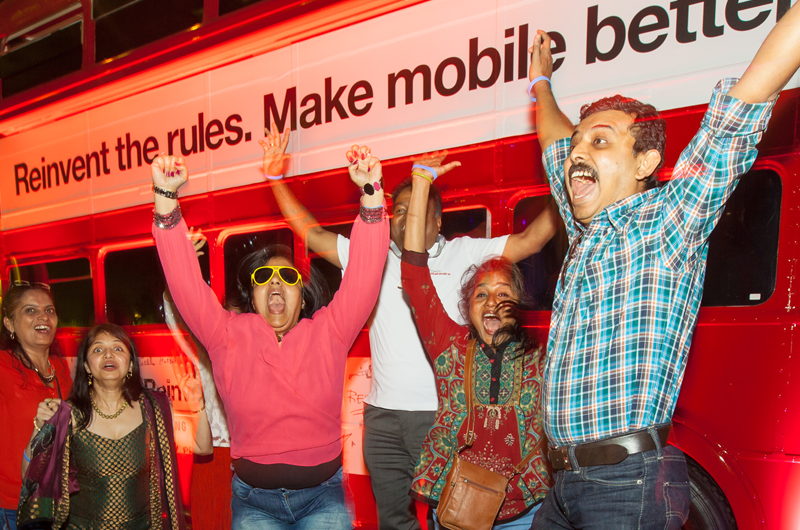 Festival spirit.
For a brand that lives for the Silly Stuff, we had to make the colossal ExCel venue space engaging, exciting and really feel alive. And so our events team got work on devising and implementing a strategy to deliver a seamless day of events and activities, including managing festival-themed catering stands, hosting a bunny showjumping tournament complete with a Twitter-based betting system and a snow machine.
For the evening we installed a clamshell Glastonbury-style stage for the evening party, where bands and DJ's including global superstar Norman Jay entertained the staff into the night.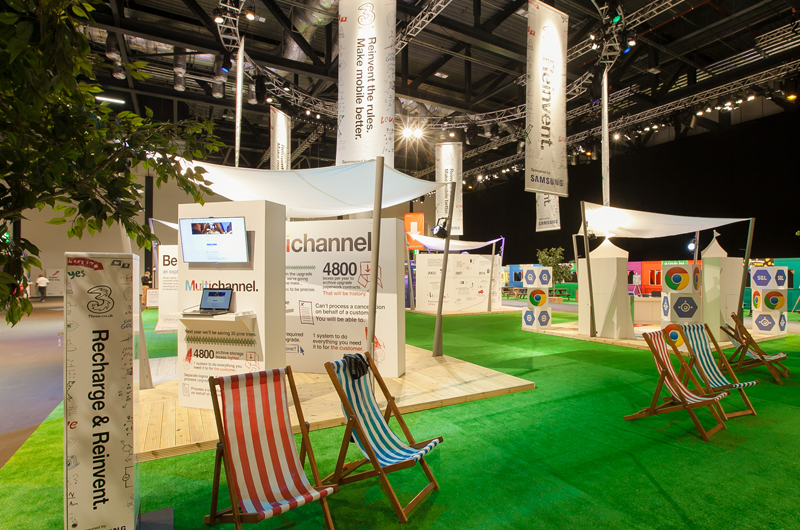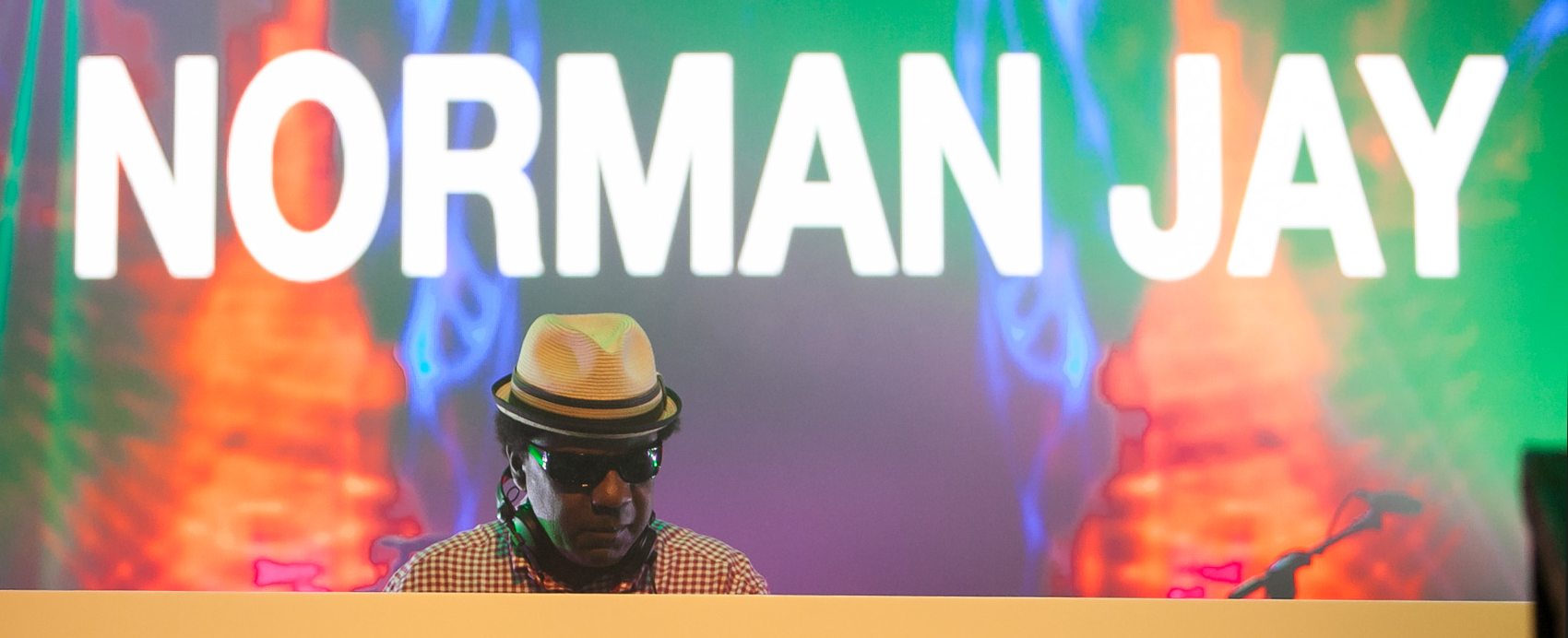 Bring it on!
The Reinvention Conference set a high bar for us, but we think we raised it with its follow up event: Bring It On. We created a sports-themed internal event for 2,000 of Three's staff from all areas of the business to create confidence and support for the company's pledge to significantly grow the company by 2021.
In order to communicate the company message and energise staff, we designed the look and feel of the content and space to ensure every single statement made on stage felt like a rallying cry for all involved, showing it was a united effort, inclusive of everyone there. We split delegates into teams, and hosted point-scoring games all day, with prizes for the best.
The event created a buzz across the company and 88% of staff they said they felt excited about Three's future.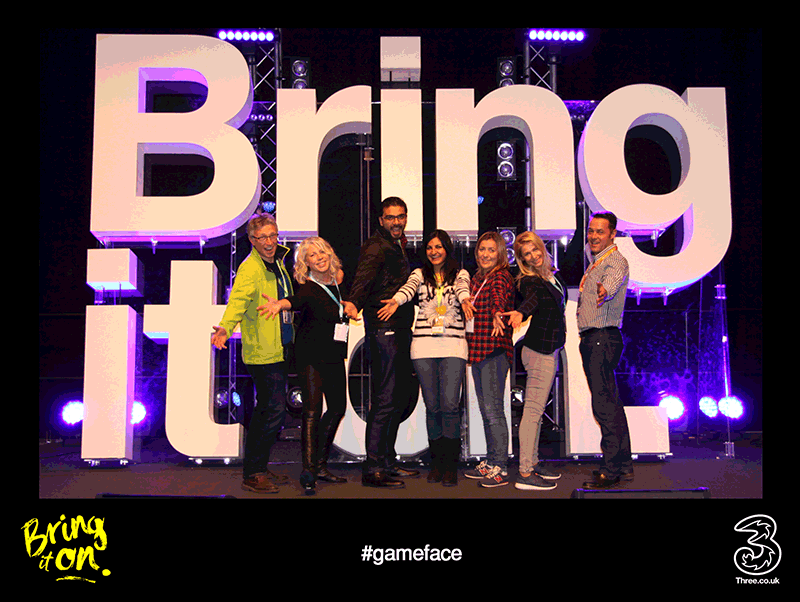 Complete support.
As well as tasking us with organising and producing its internal events, Three also relies on us to handle artwork, video production and custom animations. It allows us to ditch the comfort and familiarity of Powerpoint in favour of running the whole show against bespoke motion graphic content. We kicked the Bring It On Conference off with a powerful hype film shown on two gigantic arena-style projection screens. It celebrated Three's history and highlighted just how many times the company has achieved significant industry firsts.
Everything from the storyboard to original soundtrack and animation was designed inhouse to create a buzz in the audience.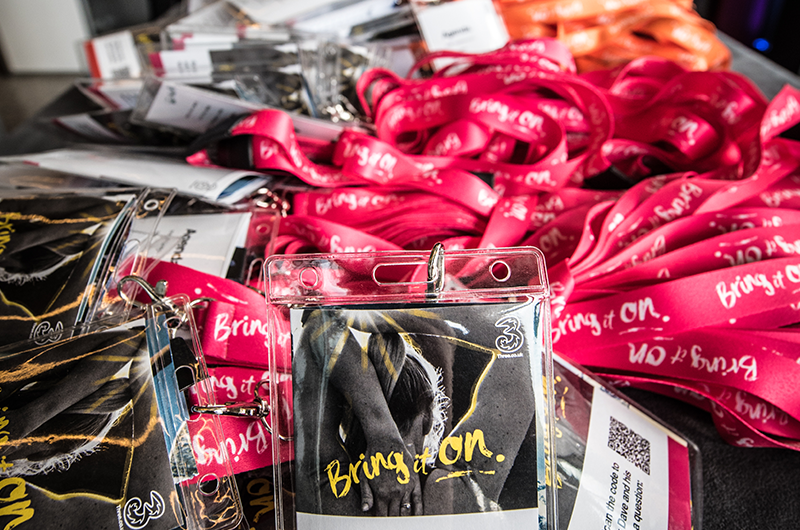 The Superstar Gala.
Three asked us to deliver a show stopping event for its annual Gala Dinner event. We took the request literally and created a thrilling, high-energy circus, packed with show-stoppers! For one night only Three's high-performing retail staff enjoyed a full carnival experience, with a Ring Master compèring the evening, aerialists soaring overhead and plenty of other surprises. We handled every element of the event, from creative to execution and ensured every element of the production was designed to dazzle and there wasn't a tepid presentation in sight.