Overview.
Chinese multinational technology company Lenovo is one of the largest personal computer vendors in the world. As well as producing PCs it also makes tablets, smartphones, work stations and smart TVs, amongst other things. Lenovo asked us to help it target key retailers as well as increase its brand awareness in various sectors, particularly education. We created a series of events to increase its presence and perception across B2B sectors.
Deliverables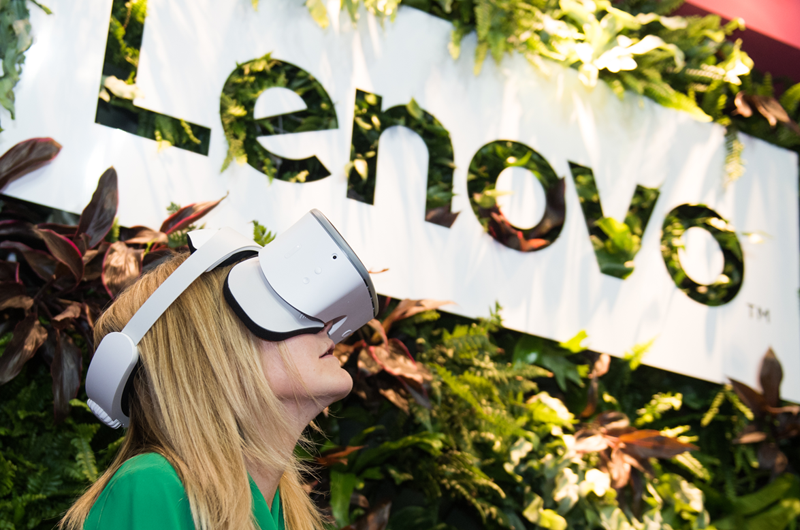 Lenovo at The Bett Show.
Lenovo asked us to design and create its exhibition space for the Bett show. This annual exhibition is the largest technology education show in EMEA and attracts 35k visitors from 140 countries. It provided an important opportunity for Lenovo to increase brand awareness in the education space as well as position itself as an innovative technology leader.
We wanted the exhibition area to communicate the simple fact that Lenovo's innovative technology is rooted in natural human needs. Because of this we created a space that focused on the natural, with trees and foliage intertwined with the latest technology, embedded just under the surface and showing that tech underlies everything. It referenced the fact that peoples' educational needs grow over time, so they need technology that can grow with them.
An invite-only pop-up.
The consumer tech space is hugely competitive and Lenovo asked us to help it stand out in front of key international retailers. We created a vibrant pop-up space in central London to showcase Lenovo's latest products. The invite-only showcase was reserved for some of the technology company's biggest buyers.
The space we created highlighted products from five distinct areas of Lenovo's business: AR/VR, notebooks, desktops/monitors, tablets and gaming. We took the lead on creative direction, with Lenovo's only direction being that the store should have more of a retail feel than a tech shop.
We avoided the look of futuristic stores bathed in clinical white light typifies current technology retail space. We went the opposite direction, with plenty of bright colours, bold graphics and eye-catching installations that gave the space a firmly retail feel.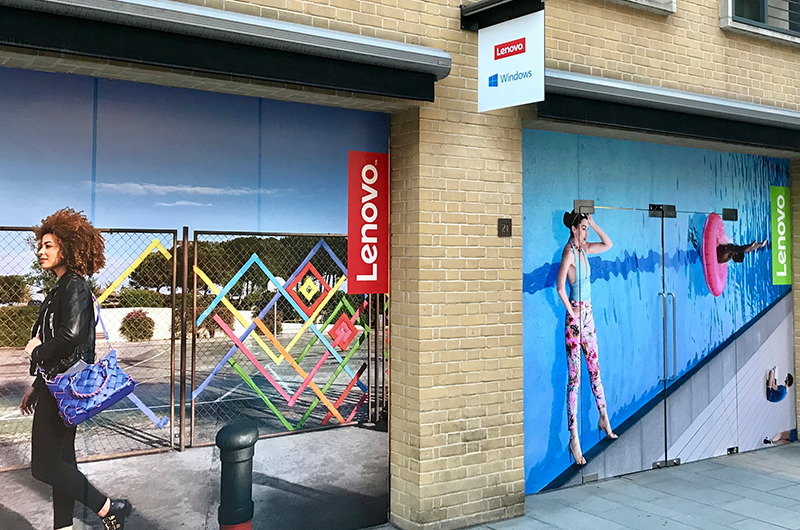 Evolving exhibitions at RBTE.
We created an interactive and evolving space to showcase Lenovo's retailed-focused solutions at the Retail Business Tech Expo. In order to entice busy visitors to the stand we created content that came to life when people walked past pressure pads and an object recognition table which would bring up product information when props were placed on top of it.
As Lenovo's retail products can work across a variety of industries we wanted to show that at the expo. Midway through the day our stand automatically shifted all content from a fashion-focused activation to a grocery-focused one. It led to an activation that stood out amongst a sea of corporate-looking stands and made Lenovo a must-visit location at RBTE.
Recreating a tube carriage at Future Decoded.
Lenovo asked us to design, build and manage a stand at Microsoft's Future Decoded event, showcasing its latest commercial products, as well as its AzureStack server units. Due to Lenovo's position as a Platinum Sponsor (And due to the presence of stands from competitors) it naturally wanted to be bold, premium and interactive to stand out from the rest.
We created a VIP experience with a premium feel. We used high-end materials and built the stand on a raised platform, meaning delegates had to step up onto the stand to enjoy the raise experience inside.
For our hero piece, we created a bespoke fully functional tube seat which sat centre front of the plinth. It was the first thing visitors saw when approaching and was excellent for drawing people to the stand.
Educating retail staff.
We created a Lenovo activation at the Dixons Carphone Peak Conference designed to educate staff on the key messages and activities leading up to the Christmas trading period. Lenovo asked us to produce a stand that not only attracts visitors but encourages interaction with its products.
We created a brightly coloured stand that matched Lenovo's bold brand colours, with a bold overhead banner. But getting attention was only half of the battle; we needed to engage and educate.
We created a game called Crack the Code. This huge safe sat in the middle of our activation and people could try and break it, provided they answered a series of product focused questions first!
Returning to The Bett Show.
Following the successful exhibition at the previous year's Bett show Lenovo tasked us with designing and building something that topped the bar we'd set. It wanted showcased a broad range of Lenovo's latest education-focused commercial products with the ultimate goal of positioning the tech-giant as an innovation leader.
The multi-area exhibition had numerous highlights, including taking delegates to outer space with a Google Expedition area, running a fastest-lap competition in a VR racing car and creating a hospitality area to highlight Lenovo's support of STEM education in deprived parts of the world.
The creative direction worked: we more than doubled our leads compared to the previous year.