B&D creates rhythm action game for LG

We designed and created LG Jam Session, a rhythm action game which celebrates the launch of LG's PK Bluetooth speaker range. The game gave third-party retail staff the chance to win if they set a high enough score.
LG uses a bespoke platform, called LG Lounge, in order to educate staff at third party retailers about its products. These staff can take a variety of education modules to learn about products, with incentives encouraging them to do so. The ultimate goal is to arm sales staff with the knowledge to make selling LG products as easy as possible.
This summer the tech giant asked us to create a fun, easy-to-play game to celebrate the launch of its PK Bluetooth speaker series.
Our response was LG Jam Session, a rhythm game designed to bring out people's inner rock star! The game was available exclusively to LG Lounge members who'd completed the training modules for the new speaker range.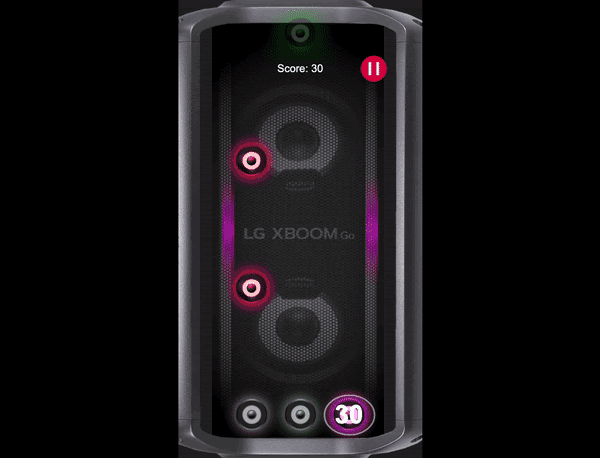 Playing is easy: simply track the coloured notes as they move down one of three lanes, pressing the corresponding button when they get to the bottom. High-scoring players were in with a chance of winning prizes including LG speakers and even a £200 Ticketmaster gift card.
We created three tracks especially for LG Jam Session. Players started with the laid-back confidence of a stylish neo-soul instrumental. They then had the chance to embrace their inner head-banger for a feelgood rock anthem. Lastly, we cranked up the energy for a Drum & Bass finale designed to get the heart pumping.
If only being a music genius was this easy in real life!